I have a category in my computer recipe database that is titled "Finds Of The Century." In that category I place recipes that I crown as big time "finds." Recipes you can't wait to serve to friends, recipes that explode with flavor, recipes that make your eyes roll. In that folder you'll find things like Beef Carbonnade, Ham Hash with eggs in Mustard Cream Sauce, Turkish Fries, Buffalo Dick's Award Winning White Bean Chili, Pappas Brother's Shrimp Remoulade….yup, "finds of the century."
It's been probably a year since I've added anything to this exclusive category and I'm here to announce that this recipe for Crock Pot Italian Beef Sliders has joined the elite.
I found the recipe over at Cook Eat Share, which I am a member. Cook Eat Share is a community that bills it's self as "The World's Largest Kitchen." Members are bloggers, home cooks, chefs…it's for anyone who likes to find and share recipes. It's easy to join and once you agree to add their logo to your sidebar, your published recipes automatically upload to their site. Easy! And I get some pretty decent traffic from the site.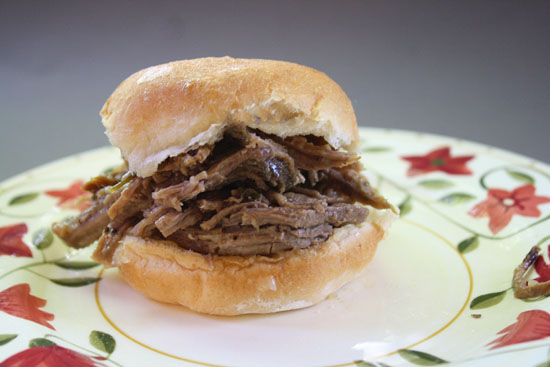 An easy recipe to assemble, just place a roast in the crock pot, cover with sliced onion and garlic, some spices and some Wishbone Italian Dressing and you come home to a savory smelling kitchen and a delicious sandwich for dinner. Every time I heated this up for leftovers, I'd shake a little more of that Wishbone Dressing to moisten up the beef before heating. These sandwiches were wonderful all dressed up with lettuce, bell peppers and onions. But were just as good warmed and plain on a bun. Let's take a look.
Crock Pot Italian Beef Sliders
Ingredients
4-5

lbs

. brisket flat or rump roast

1

cup

Italian dressing like Wishbone

1

t

. each basil

parsley, and oregano, or 1 tsp. fresh

1

onion

sliced

3-4

cloves

garlic

or 1 1/2 tsp. powder

salt and pepper to taste

1

can beef broth

slices

for the sandwiches: sliced red bell peppers. red onion

lettuce, tomato, cheese slices, mayo or use au jus
Instructions
Place all the ingredients in a crock pot and cook on high for 2 hours, turn to low and cook all day. Beef is ready when it easily shreads with a fork. To prepare sandwiches, place meat on buns, top with sliced red bell peppers, onion slices, lettuce. tomato, cheese, mayo or use au jus.
Crock Pot Italian Beef Sliders…It's What's for Dinner.