This is one of those side dishes that I can see myself making once a week…forever. I found the recipe on Pinterest and it was one of those perfect storms where I had every single item on hand. That is except for black olives and I just substituted green ones (pimento stuffed). I also added a can of chickpeas that I had in the pantry. We served this with salmon fillets and were feeling pretty healthy by the time it was all over.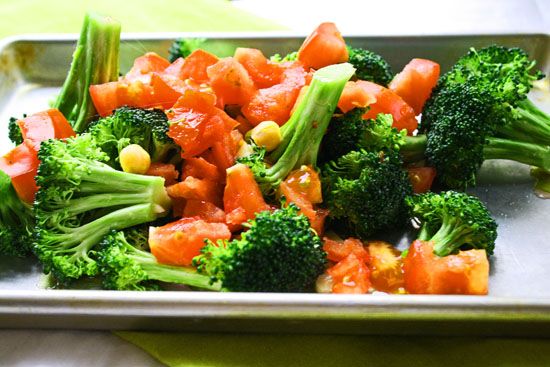 Easy, fresh and delicious. The broccoli, chickpeas and tomatoes are simply coated with olive oil, garlic and salt and roasted until just starting to brown and then simply tossed with lemon juice, oregano and the olive and caper mixture. The whole things warms into a bright and sassy side dish. Thank you What To Cook for this Mediterranean roasted broccoli and tomato side dish.
Roasted Broccoli
Author:
www.highlandsranchfoodie.com
Ingredients
12 ounces broccoli crowns, trimmed and cut into bite-size florets (about 4 cups)
1 cup grape tomatoes
1 can chickpeas, drained
1 tablespoon extra-virgin olive oil
2 cloves garlic, minced
¼ teaspoon salt
½ teaspoon freshly grated lemon zest
1 tablespoon lemon juice
10 pitted black olives, sliced (I used green pimento stuffed)
1 teaspoon dried oregano
2 teaspoons capers, rinsed (optional)
Instructions
Preheat oven to 450°F.
Toss broccoli, tomatoes, chickpeas, oil, garlic and salt in a large bowl until evenly coated. Spread in an even layer on a baking sheet. Bake until the broccoli begins to brown, 10 to 13 minutes.
Meanwhile, combine lemon zest and juice, olives, oregano and capers (if using) in a large bowl. Add the roasted vegetables; stir to combine. Serve warm.
Mediterranean Roasted Broccoli and Tomatoes …It's What's for a Side Dish.
On this day..