Happy New Year!  Here's wishing everyone peace, love, health, happiness and lots of good food.
I don't know about you, but I've had about enough cream, butter, cheese, rich sauces and meats for 5 Holiday Seasons. If you're like me, you're already planning for some lighter meals and looking for healthy recipes.  I thought I'd dust off a few of my old favorites and try to behave…at least until Superbowl.  Let's take a look.
Rich in color and flavor, this is a can't stop slurping soup.
Lean, sweet, flaky pan fried Sea Bass topped with a smear of pesto and a heaping scoop of tomato relish. Placed in a bowl of a light tomato sauce broth.
Make Chinese Chicken Salad like a champ.
Talk about a breakfast of champions.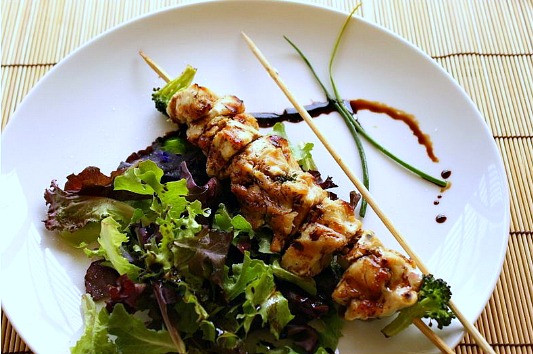 Chicken Skewers with Balsamic Glaze
A delicious and easy Balsamic Glaze recipe, or Balsamic Reduction sauce. Just like you'd find drizzled over an elegant meal in a restaurant. Great for chicken skewers.
Pan Fried Cod With Mustard Caper Sauce
A lively mustard caper sauce and a super simple salad tossed with lemon juice, olive oil and salt and pepper
Colorful with pink grapefruit, orange orange and green kiwi, you just feel good eating it.  The dressing is a cousin to a Catalina and a perfect match for the fruit and the peppery greens.
A welcome healthy, brothy and savory break from some of the rich sinful things you've been feasting on lately.
Crab Cakes on Greens with Vinaigrette
 Sauteed crab cakes on a bed of greens and a simple lemon or lime vinaigrette.
Asian Chicken Salad with Wasabi Vinaigrette
Pears, cucumbers and bean sprouts come alive with this exciting dressing.
Grilled Lamb Salad With Cumin Vinaigrette
Matchstick pieces of jicama, cucumber and carrot give this salad different levels of "crunch". This is a wonderful salad.
A delicious salad and on the table in no time.
Chicken Cutlets with Jalapeno Orange Sauce and Black Beans
This latin chicken dish is so easy, so full of flavor and a pleasure to place on the table.
Southwestern Chicken and Bean Soup
A combination of Mexican oregano, cumin and garlic powder is a great start in building a flavorful Southwestern-style soup
The combination of flavors here are striking thanks to the warm dressing, Kalamata olives and rosemary dusted chicken tenders.
Lamb Kabobs With Arugula and Creamy Lemon Vinaigrette
One of our favorite salads and with some crumbled blue cheese, this is full of fresh flavors.
Steak and Asparagus Salad with Hoisin Vinaigrette
This salad packs bright flavor with minimal fuss.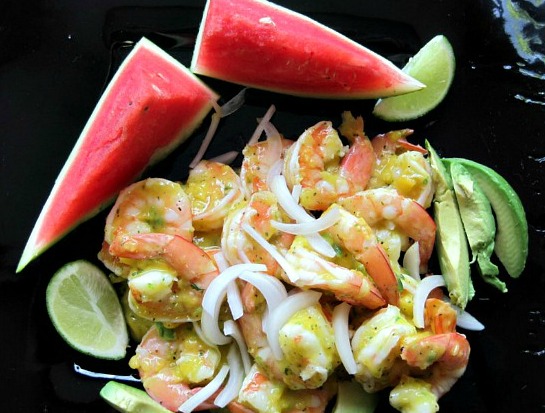 Avocado Shrimp Salad with Mango Dressing 
A Jamaican roadside stand inspired dish with sweet shrimp simmered in a peppery broth.