Savory Swiss Chard Vegetarian Tacos with crunchy caramelized onion, salty Queso Fresco and a bitey salsa.  A delicious surprise for these easy, vegetarian Mexican tacos recipe.
Well heck, this has been a couple of rough weeks for me. An inner ear situation has caused balance issues making me dizzier than all get out. Resulting in; missing four days work, numerous tests and trips back and forth to the doctor, not being able to drive, not being able to cook, no appetite and cancelling a trip to Portland to the IFBC (Food Blogger Conference), which I've had planned since March. No need to feel sorry for me, believe me, I've done enough of that for all of us.  🙂
Hopefully this latest experiment of medication has me back in the saddle. For the first time in two weeks, I've planned for a big juicy steak from the grill for dinner…and it actually sounds good. I believe things are looking up.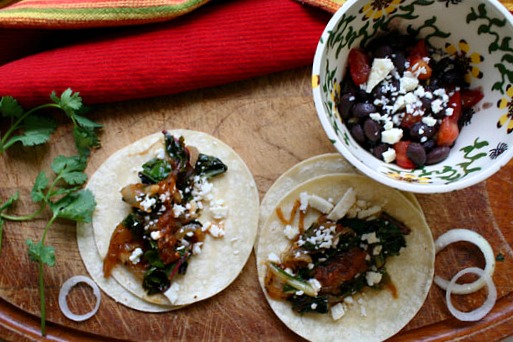 But enough about that Let's make this very unique and surprisingly delicious healthy vegetarian taco recipe compliments of Rick Bayless.
Dig in!
Swiss Chard Tacos
Simple and savory, these tacos are a delicious surprise.
Ingredients
1

bunch

Swiss Chard

1 1/2

Tablespoon

olive oil

1

whole

sweet onion

sliced 1/4 inch thick

3

cloves

garlic

minced

1/2

teaspoon

red pepper flakes

1/2

Cup

chicken broth

salt

1

cup

Mexican Queso Fresco

crumbled

3/4

Cup

Jarred Salsa
Instructions
Cut the chard crosswise into 1/2 inch slices. In a large skillet, heat the oil on medium high. Add the onion and cook, stirring frequently until golden brown but still crunchy, about 5 minutes. Add garlic and red pepper flakes and stir for a few seconds, until aromatic. Add broth, salt to taste and the greens. Reduce heat, cover, and cook greens until tender, about 5 minutes.

Uncover pan and raise the heat to medium high and cook, stirring continually until mixture is nearly dry.

Serve with warm corn tortillas, crumbled cheese, salsa, cilantro and raw sliced onion rings.
Looking for other unique taco ideas?  How about: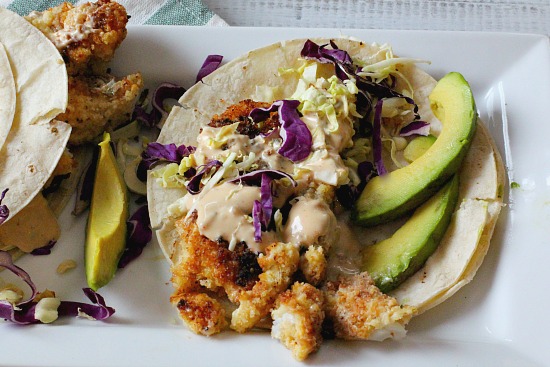 Swiss Chard Tacos with Caramelized Onion, Fresh Cheese and Salsa …It's What's for Dinner.