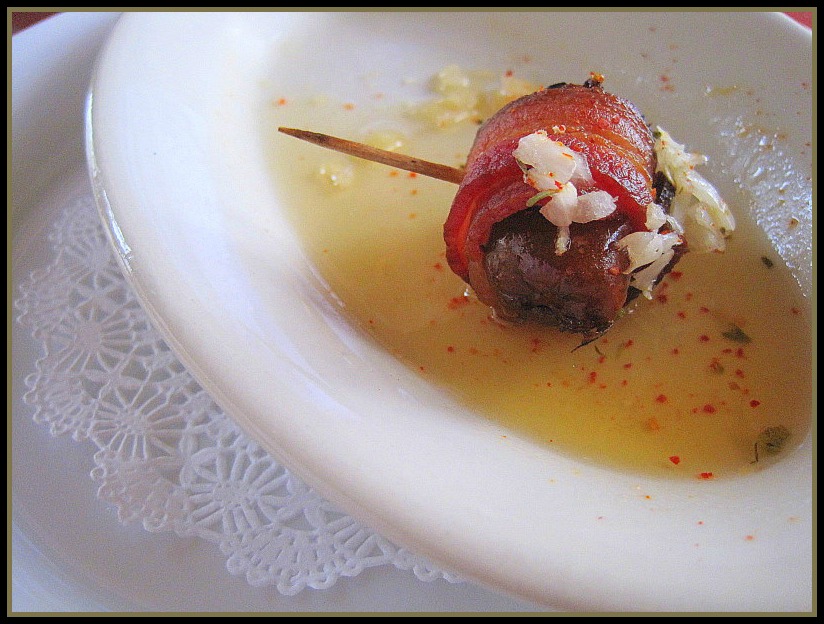 Bacon Wrapped Date Appetizer.  Absolutely delicious and a "must order" at JaJa French Bistro
Back in August, our California friends Nancy and Neal were coming to Denver for a few days before we all headed up to Grand Lake for a mountain get away vacation. Once I knew they were coming, I started the arduous task of finding "just the right" restaurant for a group dinner out. Requirements were not that difficult; locally owned, with just the right lively and welcoming atmosphere and with clever mouthwatering food that would make us swoon.  I assumed I'd find that criteria only in Downtown Denver.
Little did I know my search would take me just a few miles from home to historic Downtown Littleton to an unassuming little French Bistro called JaJa. A friend recommended it and what a wonderful recommendation it was!  (Thanks Leah if you're reading this) 
They've taken over a 1930's brick bungalow house.  As you pass through the small foyer, you find small tables intimately placed throughout the two rooms which were once a family's cozy living and dining areas.   With country french curtains hanging on the windows and the incredible aromas wafting from the kitchen, you feel like you just stepped into someone's home on a French country hillside. The atmosphere is casual yet elegant, and the food is incredible.
The menu offers an array of clever sandwiches and both savory and sweet crepes…
…And fresh salads…This photo shows their House Salad
And French favorites such as moules et frits, onion soup, steak au pouve and foie gras.
This stacked eggplant and chicken dish is a specialty and special it is.  It's become my favorite thing to order.  Layers of shredded chicken nestled between crunchy slices of eggplant drizzled in a creamy savory sauce. "To die for" doesn't do it justice.
One of our visits to JaJa was for Bob's birthday celebration.  Look at this beautiful layered lemon mousse dessert they served him.
On November 17, to celebrate the release of the 2011 Beaujolais Nouveau harvest, they offered a special dinner menu of boef bourguignon and French onion soup.  We rounded up the "usual suspects" Dan, Teri, Kathy and Tom and enjoyed a wonderful evening complete with a accordion player roaming the room serenading us with lively French tunes.  We ordered an array of appetizers before our French dinner and I can tell you their escargot and fois gras is wonderful.   As you can tell, we've made several visits to JaJa's since our discovery in August, and intend to make it a regular culinary stop.  I understand their Sunday brunch is to clamor over and did I mention that service is impeccable?
Located on Nevada Street just North of Main Street in Downtown Littleton, JaJa Bistro has quickly become our favorite.