When we talk about the comfort food we love as adults, the conversation most always turns to the things we loved as a child. Every Sunday before church, my mom would put a pot roast in the oven to slow roast. When we'd return home, the house smelled so wonderful, so savory, so homey, and so comforting. Why not make your favorite meal from your childhood today. It will make you smile.
By noon, we'd be at the dining room table and enjoying our traditional Sunday Pot Roast. And all of it slathered in beef gravy.
Here's my mom's version of this slow roasted meal.
Preheat oven to 425 degrees.
The cut of beef was usually what was on sale that week. And most of the time it was the seven bone variety or a nice big chunk of meat labeled pot roast.
She'd sprinkle the meat with salt and pepper and then a good douse of flour.
She'd sear the meat until brown on both sides, and then put it into the same inexpensive metal speckled oval roaster that she'd had forever.
With the roaster uncovered, she'd cook the meat on the high temp for 20 minutes.
She'd then remove roast and reduce the heat to 300 degrees.
Layer in big chunks of potato, celery, onion and carrots. Ever so gently salt and pepper as you layer.
Pour one cup of water over the vegetables, cover the roast and cook two – three torturous hours. I say torturous because the aromas will soon fill the air and those hunger pangs will go wild. The cook time will depend on the size of the roast. It's done when it's easily pulls apart.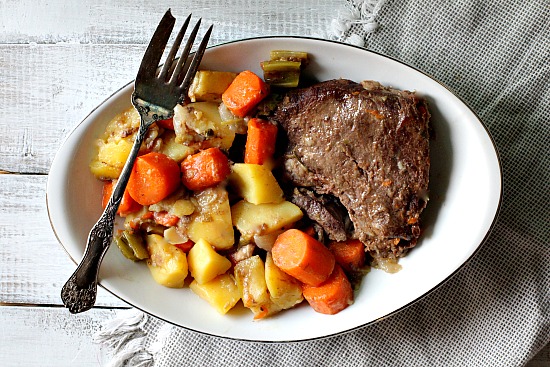 Move the roast to a serving platter and spoon vegetables around.  Tent with foil and let rest while you make the gravy.
Beef gravy is so easy. In a container that you can seal and shake the heck out of, add 1/2 cup water and two tablespoons of flour. Move the Dutch oven with the drippings to the stove top. Bring it to a simmer. Add about two cups of water or beef  broth. Add the flour and water mixture and simmer until thickened. You may need to shake up another batch of flour and water if gravy doesn't thicken to your liking. There is usually a few chunks of potatoes and carrots stuck to the bottom and sides of the Dutch oven, make sure and smash those into the gravy. If none are stuck I'll go get a couple of pieces from the platter and coarsely smash into the gravy.
Most often she'd serve this with Kansas Green Beans. What a great comfort food meal.
After moving to Denver, every trip home, we'd call mom to let her know we were about an hour away from arrival. I'd always ask, what's for supper? Even though it wasn't Sunday, the answer was always "Roast Beef". She knew it was our favorite and it was a perfect end to a long road trip.
What was on your Sunday dinner table?
Pot Roast…It's What's For Sunday Dinner.