Pork chops with orange and cinnamon ancho chile sauce. Chops are drenched in ancho chili sauce. A beautiful Southwestern sauce with sweet and earthy flavors.
This is such an easy recipe for a Mexican themed weeknight dinner. A beautiful Southwestern red sauce that comes together in a jiff over a juicy pork chop.
Ancho chile powders are dried, ground pepper and should not to be confused with chili powder, which is a blend of ground chilies and other spices. Ancho chile powder is made from the sweetest dried chile, and has a moderately spicy but rich flavor. A powder that I reach for frequently to season meats or make sauces.
It was a beautiful compliment in this sauce that includes orange juice, chicken broth, cinnamon and honey. Who can resist that lineup of flavors?
For a side dish, I chose a poblano pepper that had been roasted over my gas stove top and stuffed with spicy mashed potatoes. Bob went bonkers over this potato side dish and it was a natural combination of yumminess for the pork chop. It will make a frequent appearance at our dinner table as a side dish for any Southwestern entree.
I have cooked up my fair share of dry chewy pork chops in my lifetime. Frustrating. I finally found that a thin Center Cut Rib Chop has been my "pork chops for dummies" savior. About two minutes per side on the grill or in a hot pan on the stove top and voila….a thin piece of meat full of juicy flavor.
Pork Chops with Orange and Cinnamon Ancho Chile Sauce
Ingredients
1/2

cup

of orange juice

1

cup

chicken broth

5

teaspoons

Ancho Chile Powder

good quality from a reputable spice shop

1/2

teaspoon

cinnamon

1

drizzle

honey
Instructions
In a saucepan add the orange juice, chicken broth, ancho chile powder, cinnamon and a drizzle of honey.

Simmer for about 15 minutes or until the sauce is thickened and cooked down a bit to intensify flavor.

Slather over your grilled pork or pan fried pork chops.
Recipe Notes
This sauce also works great over baked or grilled salmon
Looking for more Pork Recipes with Southwestern Sauces? Take a look at: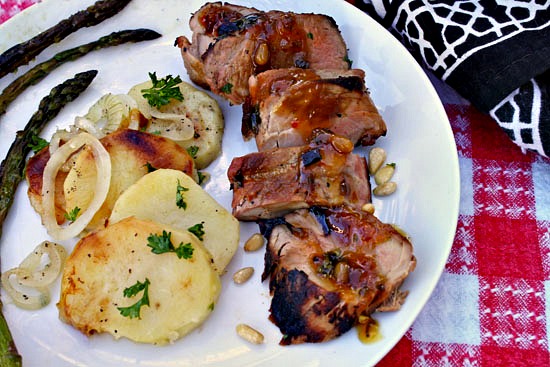 Pork Chops with Orange and Cinnamon Ancho Chile Sauce … It's what's for Dinner