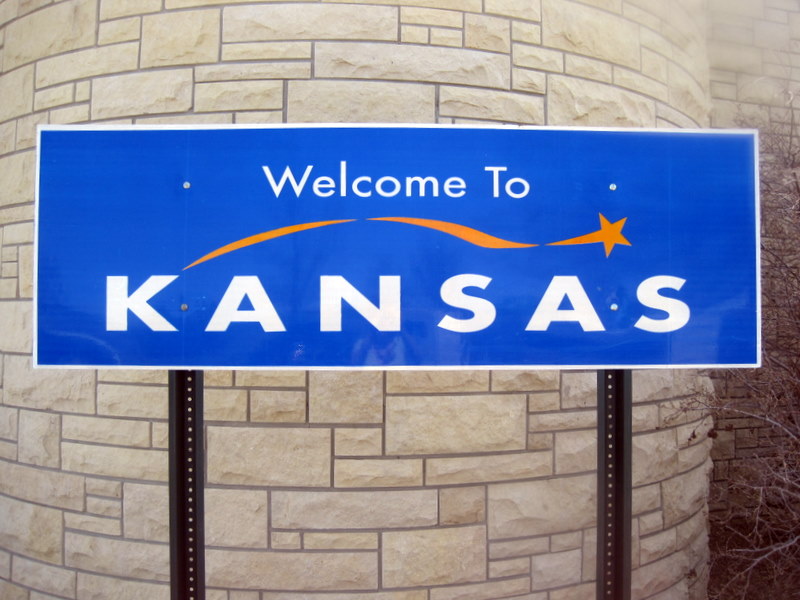 I come by my love of cooking honestly, as my mom and her two sisters were constantly whipping up some of the best country cooking you can imagine when I was growing up on the farm in Kansas. Then gathering us all together around a long buffet table of dish after casserole dish of food, we'd eat until we were "fuller than ticks".
I have a family cookbook full of these recipes and want to start posting more. Last road trip home, I pulled over to take a photo of this sign just inside the Kansas-Colorado border to use for these posts. Just a side note, did you know there's a town on the border called Kanorado? Clever.  Population 222, 119 males, 103 females…thank you Google.
This recipe comes from my Aunt Lena. Actually her name was Lois, but we called her Aunt Lena. Come to think of it her husband's name was Marion and we called him Uncle Frank??? Then there was my Mom's friend Wallace but we called him Wig. My Aunt Laura who we always called Aunt Tootse. Very confusing for my husband when he started visiting my family. Always questions like "well then which one is Marion?"
Anyway, this is an easy delicious side dish. I've used canned vegetables for this batch because here it is the end of July and Colorado still has no fresh Colorado produce. This last week we did just see some sweet corn.. finally!  Very soon I'll be blanching up fresh veggies for this recipe.
This simple sweet tangy flavorful mixture will pair quite nicely with any piece of meat that comes off your grill this summer.
Aunt Lena's Vegetable Salad
Using canned vegetables makes this an easy and tasty Summer Side Dish.
Ingredients
15 ounce

can

white corn

15 ounce

can

green bean

french stule

15 ounce

can

peas

1

cup

red onion

chopped

1

whole

green pepper

chopped

1

cup

celery

chopped

1

jar

chopped pimentos

Dressing:

1/2

cup

olive oil

3/4

cup

vinegar

1

tsp

salt

1

Tbs

water
Instructions
Mix all vegetables together in a large bowl.

Combine dressing ingredients in a medium sauce pan. Heat dressing slightly to melt sugar. Pour over vegetable and let set overnight.
Aunt Lena's Vegetable Salad … It's What's for a Summer Side Dish.
Vegetable Salad Recipe by Lois Welker.