Breakfast Tacos with Chorizo, potatoes and eggs. Wake up and enjoy a little 'ole in the morning.
Tacos just aren't for dinner.  Why not make breakfast tacos.  I am taco-crazy and need to warn you that there are more taco posts on the way…
Everywhere I turn, magazines, blogs, newspapers…I'm seeing beautiful soft corn tortillas oozing with scrumptious inventive fillings. I suppose Cinco-de-Mayo is to blame. I'm dizzy and loving every minute of it. Here's my latest creation,  taco truck inspired, I changed it up a bit and also added sunny side up eggs.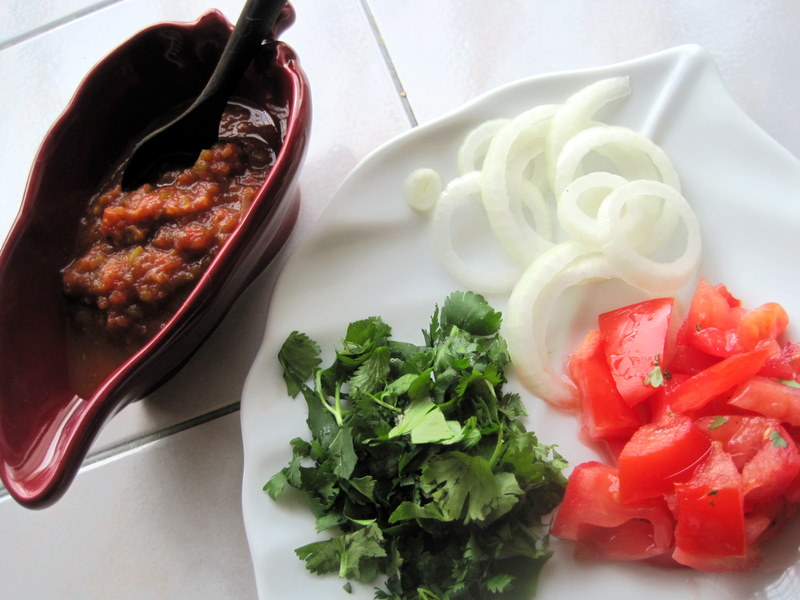 Pretty straight forward, no quirky ingredients this time, just some potatoes and chorizo that meld into a delicious flavor sensation when wrapped inside a steamy white corn tortilla.
Here's what I did.
I boiled about three of those delicious and creamy Yukon Gold Red Skinned Potatoes for about 30 minutes until tender. I melted some butter in an omelet sized skillet and without peeling, roughly smashed the potatoes in the pan. This formed the smashed potatoes into somewhat of a pancake shape…
I topped them with some fully cooked Mexican chorizo sausage. Simmering on medium, and as soon as the potatoes where golden brown on the bottom, I flipped the mixture to brown on the other side.
Dividing into 4ths, I patted the potato/chorizo pancake into double-layered steamed white corn tortillas. Add a sunny side up egg on top, a sprinkle of cilantro, chopped tomato and a couple of rings of sweet onion and you've got yourself a breakfast taco.  Don't forget to pass a bowl of your favorite salsa for drizzling.
I didn't have the nerve to pick these up and eat them with my hands. I suppose it could have been done, but I played it safe with a fork and knife.
The only thing I'd do different next time?  How about a squeeze of fresh lime.
Looking for other South of the Border Breakfast ideas?  How about this open-faced Toast with Smashed Avocado, Bacon and Fried Egg.  From the archives, this is one of my favorite breakfasts.
Breakfast Tacos…It's What's For….well…..Breakfast.