Potatoes cooked in banana leaves. Steamy and served with melted Ementhaler cheese and onions.  A fabulous way to serve potatoes.
I absolutely love this method of cooking potatoes.  I learned this trick a few years ago from a Whole Foods grilling demonstration.  After a sample of the finished product, I couldn't get to the produce department fast enough to purchase banana leaves and potatoes.  The only place I can find banana leaves right now is at H-Mart in the freezer department.
Banana leaves are used as a kind of wrap in Thai cooking. Banana leaves not only look beautiful, but also lend a subtle aroma and taste when foods are cooked inside them.  They can be used for grilling,  baking, or steaming foods. While functioning as a wrapping material, they also lend a hint of flavor to your food that is very pleasant.
With our mountains as a backdrop, it gets dark in Denver around 4:30 p.m. these days.   I usually use the grill for this recipe,  but with our dark days, baking works just fine.
Potatoes in Banana Leaves:
1 medium onion, sliced
6 medium potatoes peeled and thinly sliced, preferably with a mandolin
Salt and pepper
Ementhaler Cheese
olive oil
1 banana leaf (thawed if not fresh)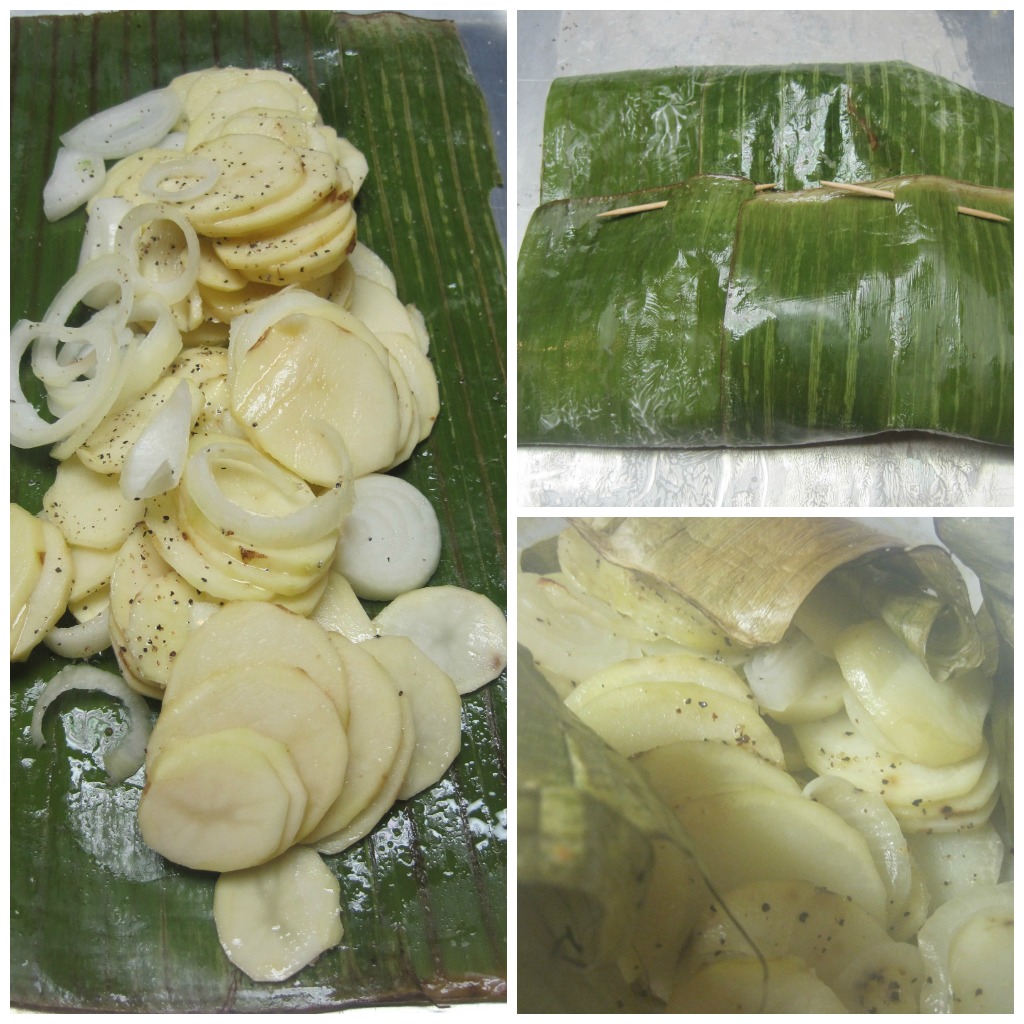 Lay the banana leaf on a buttered baking sheet.  I also sprayed the top of the banana leaf with Pam.  Scatter potatoes and onion on the leaf.  Toss with a bit of olive oil. Generously add salt and pepper and grated Ementhaler Cheese.
Fold and make a packet with the leaf and secure with toothpicks.  Bake 350 degrees 30 minutes.  (Depending on the thickness of the potatoes, you may need to bake up to 40 minutes.)
 This photo is steamy rather than blurry.  When you first open up the packet, the steam and flavor pleasantly hit you right in the face.
 I served the potatoes with an easy and delicious shrimp dish that I prepared in advance, and some tapioca pudding.  A great little meal.
 For dessert tapioca pudding topped with a sprinkle of fresh grated nutmeg.
How bout them bananas – This meal really is so delicious.  The texture and sweet flavor of the potatoes, the fresh creamy flavor of the chilled lime/dill shrimp, and then there's that tapioca pudding.  Who needs summer.
Potatoes Cooking In Banana Leaves…It's What's For Dinner.