Champagne Mango Salad. The mangoes in this jalapeno spiced salad are full of vitamin C. Be sure to use firm, underripe fruit: They add an essential tang to this Spicy Mango Salad recipe.
Looking for a fresh and healthy Mexican food, fruit salad side dish? Got a couple of mango sitting around on your kitchen counter?  This mango fruit salad is so easy to make and so easy to love.
Any variety of mango will do. I used Champagne Mangos because Whole Foods has had a truck load at a good price over the last few days. Not sure what to do?  How about a super easy mango salad. Try this:  pit, peel, sliver,  place in a bowl and gently toss with olive oil.   Plate and top with diced jalapeno pepper, slivered sweet onions.  Dress with a generous amount of ground black pepper, squeeze lime juice over all and sprinkle with salt.
Champagne Mangoes are those beautiful smaller mangoes with bright yellow flesh. They're native to Mexico and in season in February.
Do you find mangos hard to slice?  I sure do, having mangled many a mango. I found good instructions over at Mango.org if you're needing a refresher. I also have purchased a mango slicer. It works great and I've included an affiliate link if you're interested.
This spicy mango salad recipe is great side dish served with any offerings from the grill. This is healthy and ohmygosh good.
Spicy Champagne Mango Salad
Ingredients
2

2 - 3 champagne mangoes

unripe, peeled and cut into 2-by-1/2-inch batons

1/2

large sweet onion

sliced lengthwise

1

jalapeño

seeded and finely chopped

2

tablespoons

fresh lime juice

Salt and freshly ground pepper
Instructions
In a bowl, toss the mangoes, onion and jalapeño with the lime juice. Season with salt and pepper and serve right away.

MAKE AHEAD

The mango salad can be refrigerated for up to 1 hour.
Looking for more ways to use Mango in salads?  Take a look: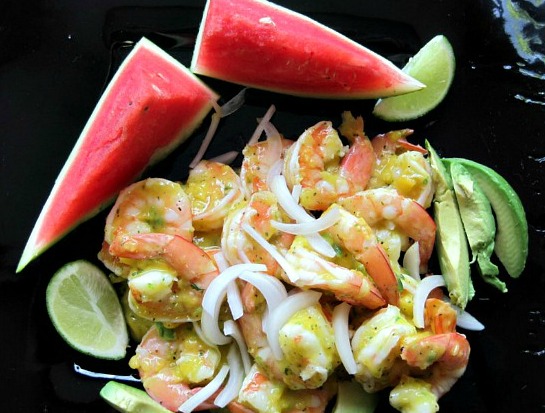 Spicy Champagne Mango Salad … It's what's for a Side Dish